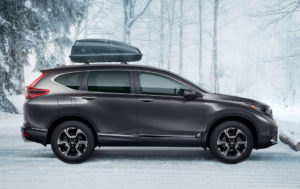 When it comes to taking on the snow, sleet and ice of a Thunder Bay winter, every little bit helps.
Living in the Great White North means understanding that things like winter tires and AWD are a must. Heated seats? Well, that's more a luxury item… but why not take that too? One feature that is often misunderstood is All-Wheel Drive. AWD will help you slice through snow like a hot knife through butter, and in slippery conditions, keep you on the right track. It doesn't mean you are invincible on the road, but will add an element of safety to your winter driving experience with improved traction and peace of mind.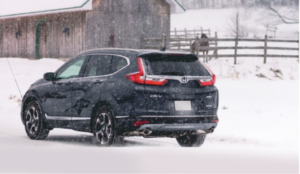 What is AWD?
All-Wheel Drive systems allow for all four wheels to receive torque from the engine. Should your tires lose traction in snow or on ice, AWD distributes enough power to all four wheels to prevent slippage and will send more power to wheels that have traction to get you out of trouble.
With that being said, and considering Thunder Bay is an area very familiar with harsh winters, you will want to own a winter-capable vehicle equipped with AWD. Meet the Honda CR-V.
The Honda CR-V
One of Honda's flagship models and top sellers is the Honda CR-V, along with the Civic and the Accord. And we can understand why. The CR-V has lots of room, has solid design and drive capabilities and is a great family vehicle. The Honda CR-V comes loaded with Honda's real-time AWD, with Intelligent Control System, a new setup that makes power distribution to the rear wheels almost unnoticeable to most drivers. Hill Start Assist also helps when you need to move up an incline from a dead stop. The Honda

CR-V has a 1.5-litre, 16-valve, Direct Injection, DOHC, turbocharged 4-cylinder engine that produces 190 hp and 179 lb.-ft. of torque. Just enough power combined with the added benefit of stellar fuel economy (with AWD, the CR-V is rated at 8.7 L/100 km in the city, 7.2 on the highway for a combined rating of 8.0).
The truth about Winter Tires.
Living in "The Great White North" means you are familiar with things called "snow banks" and your shovel is often kept in a, easy to get to, convenient spot (like beside your bed). As much as these are staples of a typical canadian winter, snow tires should also top your list.
Having snow tires is important to keep you and your family safe for the winter ahead. While these features may provide a peace of mind to you, the bottom line is that anyone who regularly drives in snowy, icy winter weather will reap the benefits from snow tires.
So what do snow tires have to offer you?
Winter tires are made of a special rubber compound that does not lose its flexibility below 0 degrees. The rubber compound in winter tires has the unique ability to flex under winter conditions for the special tread design to effectively clear the road surface of snow and ice, as well as gain traction at the same time. This is only seen in winter and all-season tires. This allows the tires to effectively self-clean – channeling water and slush out through the tire's footprint while actively grinding through snow and ice for better traction. Now combine winter tires with a top performing winter ready SUV and you are ready to successfully navigate through winter.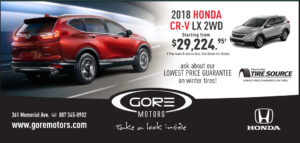 NEXT STEPS:
Take a Test Drive.     Contact Us for more information.    SHOP the 2018 Honda CR-V Online.     SHOP Winter Tires Online.